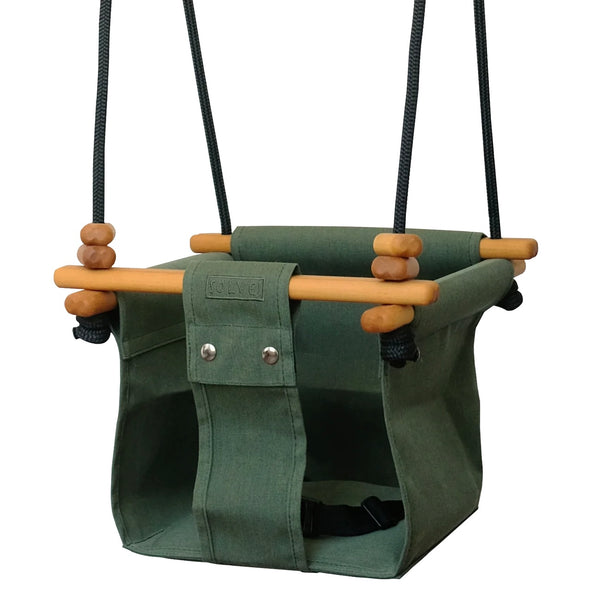 sold out
baby & toddler garden swing
$260.00
this product is currently out of stock, please contact us and we will notify you once the stock becomes available.
This Solvej swing is an attractive and safe baby swing, convertible to a toddler swing, for a product that grows with your child and will bring joy for many years. Skilfully crafted with only the best materials, it is for use indoors and out. The timeless natural design makes it an enduring classic you can be proud to hand on to future generations. 
Please check hanging heights below.
Ages
This swing converts from a baby swing to a toddler swing using the domed leg divider when your toddler is around 3 years old. This makes the swing suitable from approximate 6-months to 6 years (from when the baby can sit up unaided to the weight of 40kg/88lbs.) It is very easy to make the change between baby and toddler versions if you have both a baby and toddler in the home. The unusually long period you and your child can use this swing makes it excellent value for money.
Hanging
This swing can be hung up to a height of 2.4 metres, or 7' 10"( to cover both baby and toddler mode*), without adding extension ropes. (note this is the hanging height not the length of the ropes) If you purchase directly from us we can also organsie to make the ropes longer, which may have an additional small cost. Please email us if you require this service. Alternatively you may decide to purchase extension ropes or tree hangers.
*In Toddler Swing mode the swing is low enough that a child can climb in and out themselves. 
Solvej is husband and wife Thomas & Jenny, who designed their first swing in 1993 for their daughter. It was such a success with other parents that they started to manufacture them, naming their business after their little girl.