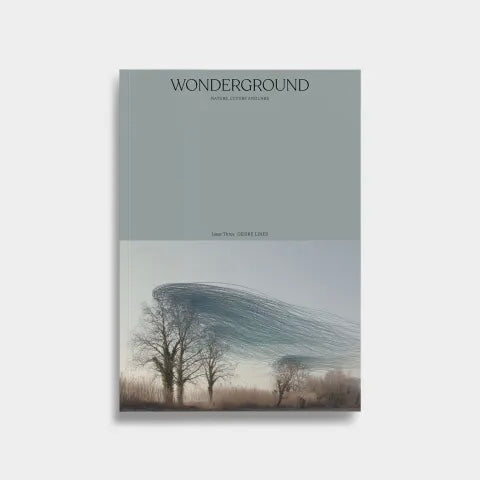 sold out
wonderground journal issue 3 by the planthunter
$55.00
this product is currently out of stock, please contact us and we will notify you once the stock becomes available.
Issue Three of Wonderground explores the ways in which lives are shaped by both desire and line. We're exploring ideas of ecosexuality and Derek Jarman's garden, mapping flight paths, meandering along desire lines, tracing the story of Nikolai Vavilov, using desire as a design tool, and holding tight to the rope stretched across the deep. Featuring essays, memoir, art and poetry from an eclectic collection of writers, thinkers, gardeners and artists, Wonderground Issue Three is hopeful, heartfelt, provocative and delightful – a salve for our times.
ISSUE THREE FEATURED CONTRIBUTORS
Courtney Adamson, Xavi Bou, Jason Cotter, Dean Cross, Dave Demers, Marika Duczynski, Jaimee Edwards, Belinda Eslick, India Flint, Monica Gagliano, Christin Geall, Emily Jacir, Neha Kale, Leta Keens, Emily Knox, Tanya Massy, Scott-Patrick Mitchell, Teresa Moller, Jazz Money, Marlikka Perdrisat, Jaune Quick-to-See Smith, Georgina Reid, Sarah Sentilles, Daniel Shipp, John Woinarski.
Dimensions: 164 page softcover journal (24x17cm) printed on 100% recycled paper.